IrisControls
IrisControls, our Windows app allows you to go from unboxing to first motion on day one by directly connecting to our motors or controllers via a USB connection. The app simplifies debugging and can be used to manually move the motors. Visit our downloads page to learn more.
Integrated Kinematic Control
Orca Series motors are equipped with a kinematic controller that allows motion profiles to be saved directly to the motor. These profiles allow movement to a shaft position over a specified period of time. Kinematic motions can be triggered using software or by a hardware trigger, such as a button or signal. Up to 32 motions can be saved to a single Orca Series motor.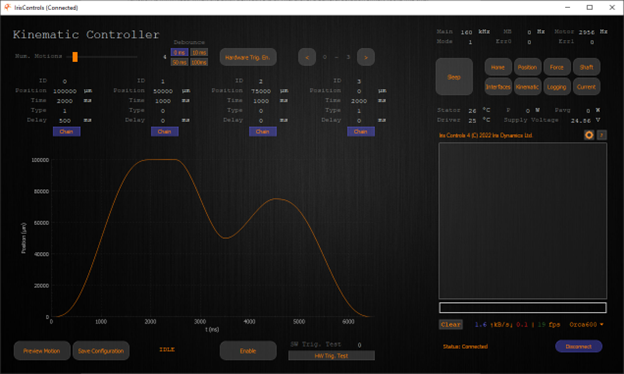 Our Windows Based Application Tuning a Kinematic Profile
Software Development Kits (SDK)
A C++ SDK for Windows is available with libraries that abstract Modbus RTU communications to the Orca Series Motor. This allows for quick integration with existing programs or creating custom programs to trigger and stream data to and from an Orca Series Motor..
Documentation
Our downloads page is always being updated to include the latest documentation supporting our APIs and SDKs to accelerate developing our motors and controllers.
Our software is used to power big ideas. See it in action in the videos below.
Introduction to Our Silent 6-Dof Motion Platform
Highlights From Our Automate 2022 Booth
Please visit our YouTube channel for more!