Powerful Controllers to Maximize Motor Performance
Our Orca™ Series of linear motors do not require one of our PLCs to communicate to a PC or a third party PLC. The Eagle series of PLCs is instead designed to simplify project development. Our Eagle PLC can allow two motors to enumerate as a single USB device. Our Super Eagle PLC is perfect for running complex mathematical routines like a 6-DoF motion platform.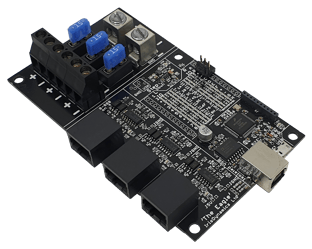 Simplify project development by facilitating communication between a PC running our Windows App and up to three of our motors. Use Arduino and Teensyduio for a quick project launch.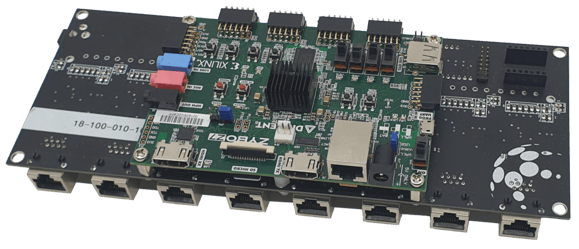 Achieve the lowest possible latency in complex robotic tasks like kinematic control by taking advantage of parallel processing and hardware acceleration powered by an ARM processor and Xilinx FPGA. All this with up to eight motors at once.
Multi-Motor Control
Complex application? Control up to three motors at once with the Eagle and up to eight motors with the Super Eagle.
Plug-n-Play
Eagle Series PLCs allow you to get your project up and running right out of the box. Simply connect your motor(s) to the PLC, and the PLC to your PC via the USB connection. Our Windows App lets you achieve first motion on day one!
General Purpose I/O
Integrate external digital or analog accessories using the on-board GPIO.
Advanced Motion Platforms
Our Super Eagle controller features advanced kinematics modelling for use motion platform applications. The parallel processing power of the on-board Xilinx FPGA in conjunction with our ultra low-latency Orca™ Series linear motors means that VR simulation can be used without the motion induced nausea that plagues older implementations.
Check out the videos below to see our Super Eagle powered 6-DoF motion platform in action.
A VR Mountain Biking Application on Our Motion Platform
Introduction to Our Silent 6-Dof Motion Platform
Interested in a motion platform? Please Contact Us today and ask about out 6-DoF kits.
Force Linking
Motors can be linked together via our Eagle Series controllers. Effects can be added to the input force before being sent to the output motor. These might include a force multiplier, damping, or a spring effect.
Check out our demos from the Automate 2022 show in the video below to see force linking in action.
Highlights From Our Automate 2022 Booth